Welcome to Project Food Pak
You Can Deliver Hope to Children in Need
When you fill a Children's Hunger Fund Food Pak, you are helping to deliver hope to a suffering child. The Food Paks you fill will be put into the hands of church pastors and volunteers who will deliver them to the homes of families in need in the US. Each child in the home will receive their own Food Pak. It's mercy ministry in action, opening doors to relationships and providing opportunities to share the gospel.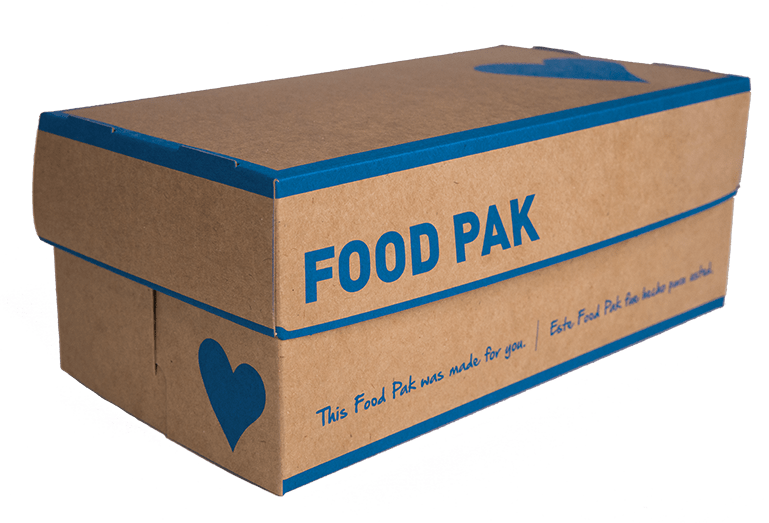 1. Decide How Many Food Paks You Would Like to Fill
You can participate in Project Food Pak as an individual, as a family, or with a group. If you're leading a group, you'll want to determine how many Food Paks your group can fill before you place your order.
If you received your Food Paks from a group leader, skip to Step 4.
Food Paks are ordered by the case. The minimum order is 1 Case Pak, containing 4 Food Pak boxes. The maximum order is 15 Case Paks, totaling 60 Food Pak boxes. (If you are interested in doing a large group Project Food Pak that requires more than 15 Case Paks, please contact us through Customer Service at the bottom of the page.)
The empty Food Paks are free of charge and a pre-paid return shipping label will be provided with your order. The only charge is for shipping your order to you.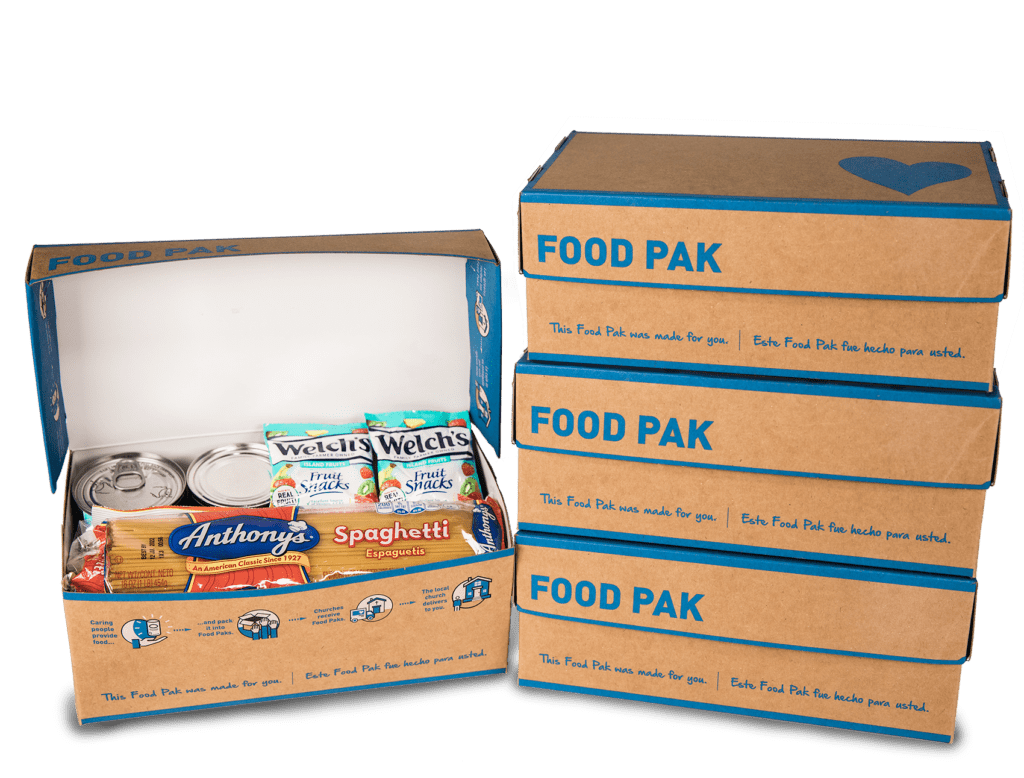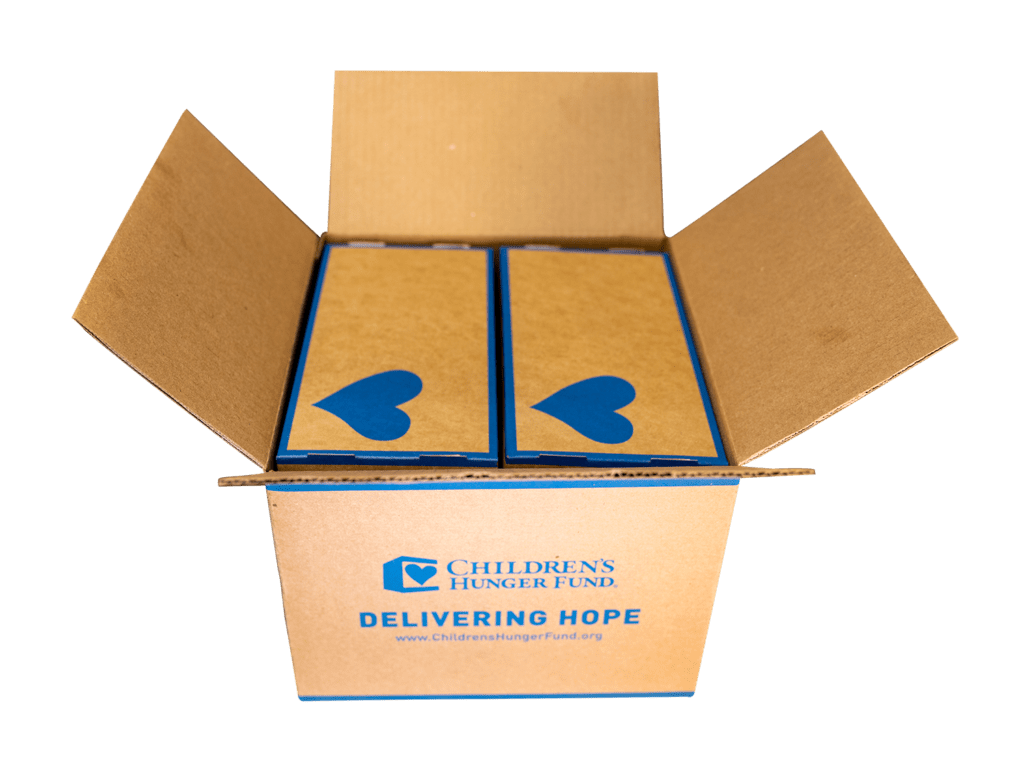 3. When Your Food Paks Arrive
Please open the Case Pak(s) carefully upon arrival and save it in good condition. It will be used to return the filled Food Paks to CHF. If you're working with a group, distribute the empty Food Paks to the participants.
Fill your Food Paks with the items from the Shopping List provided (scroll down to see the Shopping List). Make sure the lid of the box closes flat and snug after packing it.
Each participating household should fill out the Participant Form found on the back side of the Shopping List and place it inside a filled Food Pak. We also suggest enclosing an $8 donation for each Food Pak, to cover distribution costs.
If you are filling Food Paks with a group, return your Food Paks to your group leader.
If you are the group leader or are participating outside a group, return filled Food Paks to the Case Pak. Seal the Case Pak with tape and attach the UPS return label over the existing UPS label. Deliver the Case Pak to any UPS center.
6. What Happens to the Filled Food Paks?
Food Paks will be shipped back to a CHF Distribution Center where they will be distributed to local churches. Trained pastors and volunteers will deliver Food Paks to the homes of families in their communities.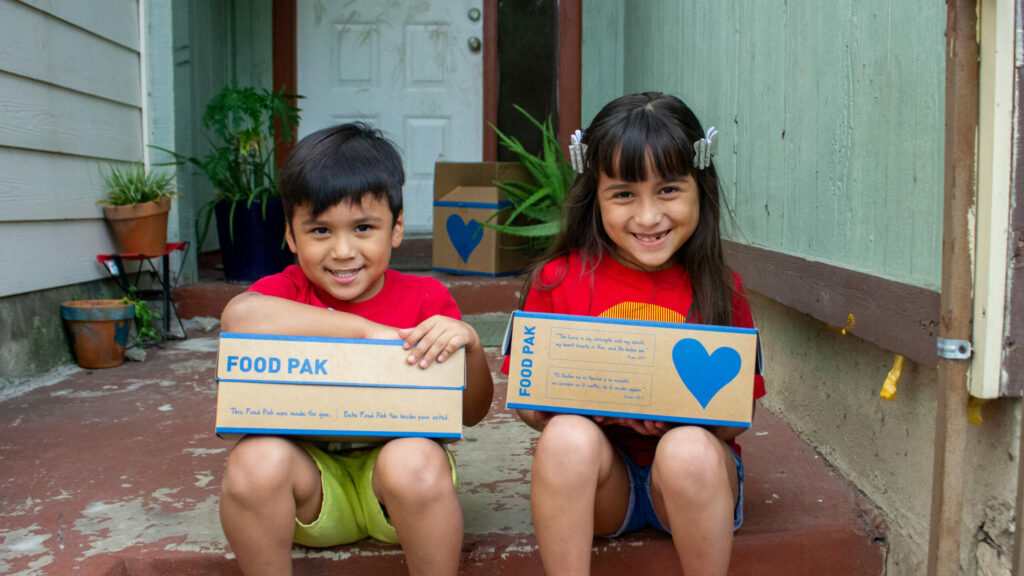 Have you already filled your Food Paks? Would you like to make a donation?
We greatly appreciate a gift to help with the cost of distribution. We kindly request $8 per box. Any amount you choose to give is greatly appreciated.
Share your #ProjectFoodPak photos on Facebook, Instagram, and Twitter while you are filling your Food Paks.
Show others how you are helping deliver hope to suffering children and families in the US. Tell us what state you are from and tag us on Facebook and Instagram @childrenshungerfund and on Twitter @ServeAChild.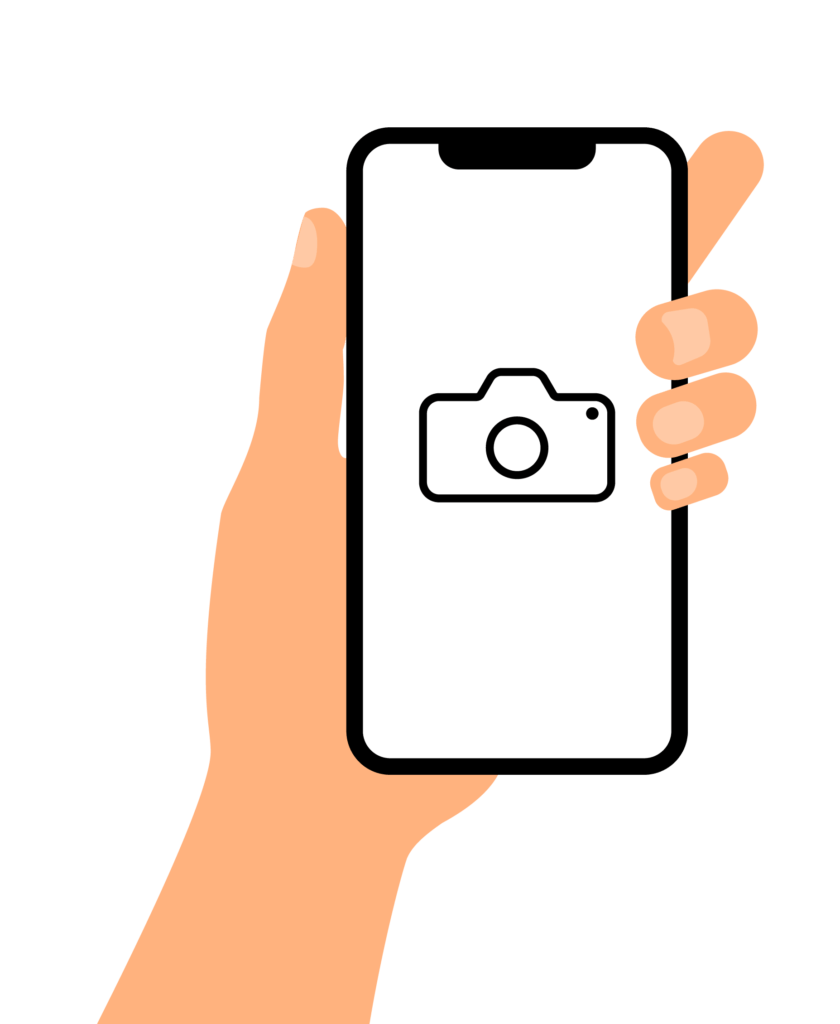 1 package of spaghetti (16 oz)

1 can of tomato sauce (15 oz)

1 can of vegetables (15 oz)

1 can of beans – pinto or black (15 oz)

1 can of tuna (5 oz)

3 pouches of gummy fruit snacks (0.8 oz each)

3 boxes of raisins (1 oz each)

2 fruit/applesauce squeeze pouches (3.2 oz each)

4 breakfast/cereal bars (1.3 oz each)

2 pouches of crackers or cookies (1-1.5 oz)

3 peanut butter to go cups or pouches (1 oz each)
Please include all items in each Food Pak, in the quantity and size indicated. 
When possible, purchase easy-open cans. No glass jars, please.
How to Pack the Items into the Food Pak
Frequently Asked Questions